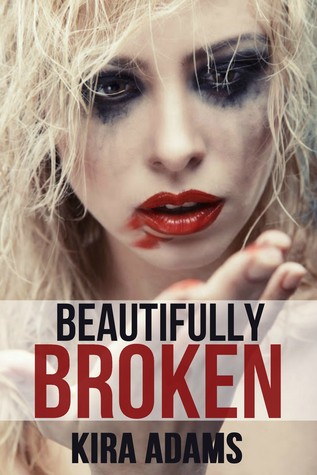 Genres: New Adult, Contemporary Romance
Jacqueline Blunt hasn't had an easy life. In fact, she's had anything but. From a drug addicted mother to being bounced around in foster care, Jacqueline longed for one thing—normalcy. Lee Bennett had everything he could ever want—girls falling all over him, a dream job, money. The one thing he was missing? Passion.



Sometimes the ones worth fighting for don't know their worth. Sometimes being broken is beautiful. This is a story of strength, courage, hope, faith, and love. This is Beautifully Broken.
Only 99 pennies during the blitz!
~Excerpt~
After we changed in the locker rooms, we emerged and I couldn't stop staring at Jacqueline. Austyn had chosen the tankini, whatever that was and Jacqueline looked beautiful. Austyn had been spot on.




We started off in the shallow end. That way she could touch the ground, in turn feeling safe.
I initiated a water fight to make her feel even more secure. I had never seen her smile more.
"Okay, I'm going to need you to lie flat on your back, I'm going to teach you how to float." Instinctively, I put my arms out in front of me.
I felt Jacqueline's weightless body fall back onto my arms and I guided her around the pool. When we had been in the deep end for more than ten minutes, I removed my arms from underneath Jacqueline.
Her eyes were closed and by the time she realized she was alone, I was already halfway across the pool.
"Lee?" She began to kick her legs, flailing her arms, looking for me; causing her to accidentally swallow some pool water.
"Jac, I'm right here," I said in a calming voice. "You were doing fine until you began second guessing yourself. Just kick your feet underneath you and keep your head above water."
I swam out to her after I saw a visible change in her posture. "How you doing?"
"You're an ass, but I'm swimming!"
"Now that's the spirit!" I wiggled my eyebrows at her.
She wrapped her legs around my torso. "Don't leave me again," she murmured.
"I'm not going anywhere." Jacqueline was my life now. I spent every waking moment apart from work wrapped up in her.
For once in my life someone had grounded me—and I liked it.
"What are you thinking about?" Jacqueline ran her fingers gently over my forehead.
"You," I replied, honestly.
Her eyes grew wide. "What about me?"
"You've managed to ground me; this is the longest I've been in one single place in years."
Jacqueline looked enthused. "That's awesome."
"That's awesome? That's all you have to say after I made that huge confession?" She was being modest.
"I knew you liked me more than you let on…I've just been waiting for you to come out and say it!" She poked me in the chest playfully.



"Oh really? I'm going to drop you in this water!" I tried to release her limbs from my body but they were hanging on for dear life.



I couldn't help but laugh. This was us. Jacqueline was my girlfriend and I was falling hard. If I didn't watch it I would be the one face planting in love with her much quicker than I had ever anticipated.




My player days were being put behind me and I felt relieved; I felt renewed.
~My 5* Review of Beautifully Broken~
Disclaimer: I received a free copy in exchange for an honest review. All thoughts and opinions expressed in this review are entirely my own.
Jacqueline is broken, she's had a rough upbringing. Her mother is a convicted drug addict and her father; who knows! When her mother was arrested
Jacqueline was taken into care, she went from foster home to foster home, until she was emancipated at the age of 15. After thinking that things couldn't get any worse she was diagnosed with Bipolar too.
For
Jacqueline every day is a struggle. Then she meets Lee.
Lee is the complete opposite to
Jacqueline, he also seems to have just about everything; money, a job and girls practically throwing themselves at him. But Lee still feels like he's missing something, he's just not satisfied. Lee has suffered heartbreak in the past and as a result has attempted to close off his heart, he thinks that if he doesn't do relationships then he can prevent anymore pain and heartache. Then he meets
Jacqueline.
Do opposites really attract? Together can they overcome they're demons and begin healing?
The synopsis for Beautifully Broken called to me. Obviously after reading My Forever I had to read this, but even before I read My Forever I knew I had to read Beautifully Broken. I was intrigued to see if or how Lee and
Jacqueline might work, I mean they really are complete opposites, but they seem to bring out the best in each other too.
I have really enjoyed the fact that for these two it wasn't love at first sight, they spent time getting to know one another and built a friendship before attempting to take things further. It was also a change to see that the lead male was showing a more vulnerable side; as Lee kept backing away before realising that he needs
Jacqueline.
Lee and
Jacqueline's characters grow more and more with each and every bump they hit, there is a lot of give and take throughout. They certainly seem to help one another.
Kira's writing style has once again kept me captivated until the very last page. The emotion that Kira has captured and portrayed is once again wonderful, and is very real. Kira has stick with the use of multiple POV and it works incredibly well, there's never any confusion. The flow of her writing is smooth and all aspects intertwine seamlessly.
Beautifully Broken deals with some very real issues that a lot of people face and live with, I think that Kira has handled these topics fantastically and sensitively. The raw emotion have been captured and portrayed brilliantly, I felt as though I was experiencing them along with Jacqueline and Lee.
Beautifully Broken is a fantastic book full of love, hurt and anger but it also has the power to give hope too! I have thoroughly enjoyed reading Beautifully Broken and I'm looking forward to the next installment in this series.
~About Kira Adams~
Krista Pakseresht has always been a dreamer. From the first time she opened her eyes. Creating worlds through words is one thing she is truly talented at. She specializes in Young adult/New adult romance, horror, action, fantasy, and non-fiction under the pen name Kira Adams.
She is the author of the Infinite Love series, the Foundation series, the Darkness Falls series, and the Looking Glass series.
a Rafflecopter giveaway